CXM Case Type Management Permissions Feature
We're excited to let our CXM customers know about this new feature coming soon!

The power of CXM is that many business units within a company can use it for different purposes. This new feature will enable you to restrict which case types licensed users can edit. This allows different teams to build their own processes confidently, knowing others won't be able to access and accidentally edit them. Below covers what you can expect from the new feature when it arrives!
What's new?
You'll soon have the ability to restrict which case types can be built and managed by users in CXM. This means that you can empower teams and service areas to build and manage CXM processes/case types without the worry that they might be able to edit ones they shouldn't have access to.
How does it work?
The case types that a user can manage will be controlled by their Group Permissions (User Administration > Groups) in addition to the existing privileges required on the user's role.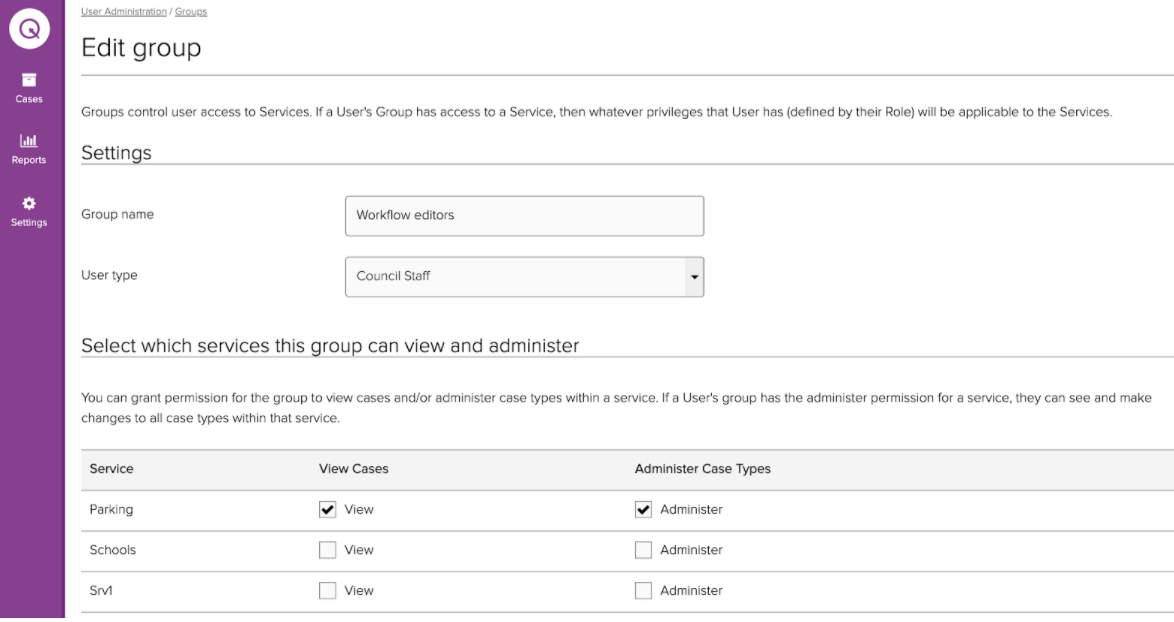 Currently, to be able to create, edit or delete a case type, a user's role must have the 'Manage Case Types' privilege enabled, plus the elements of a case type they need to manage, for example 'Manage Statuses'. With this new feature, you'll be able to set a permission on a user's group to determine which case types they can manage. The new 'Administer Case Types' permission, shown in the above screenshot, will appear as a column on the Group page. From here, you can tick the relevant service(s) you would like group members to manage.
In the above example, users in the 'Workflow editors' group with the 'Manage Case Types' privilege will be able to create, edit and delete all case types in the 'Parking' service and not case types relating to the 'Schools' service.

Important: things to note

When we release this feature, we'll automatically enable these permissions on groups where any single user in that group currently has permission to manage case types. Individual users within these groups will not be granted access to manage any case types unless the 'Manage Case Types' privilege is enabled for their role -management of case types remains a licensed user only privilege.
We'll be in touch soon to announce the release of this feature! In the meantime, remember to keep up to date with our latest CXM releases.